New Updates
News Update - 24 April 2019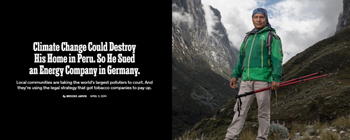 The Climate Accountability Institute's work is prominently featured in a recent comprehensive article in the New York Times Magazine by Brooke Jarvis: Climate Change Could Destroy His Home in Peru. So He Sued an Energy Company in Germany, New York Times Magazine, 14 April, p. 28-. Link to PDF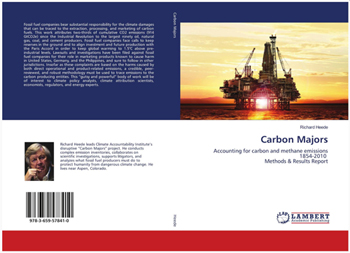 We re-issued our detailed original 2014 methodology and rationale for attributing product-related emissions to major oil, natural gas, coal, and cement producers in February, with a new preface: Richard Heede (2019) Carbon Majors: Accounting for carbon and methane emissions 1854-2010 Methods & Results Report, ISBN 978-3-659-57841-0, OmniScriptum, Riga, 148 pp. Available at OmniScriptum (61.90€); researchers and journalists may request a digital copy from CAI.
Eli Weiss of Our Wild World interviewed Rick in January: Climate Accountability with Rick Heede, Voice America, 28 January.
Numerous other newsprint and scientific articles mention our work. Our original paper in Climatic Change has been downloaded 96,000 times and cited in other peer-reviewed papers 123 times and rising. CAI maintains a running list of important media mentions and related articles, available on request. Email Rick at: heede@climateaccountability.org.
Our work with Milieudefensie in Amsterdam in support of their lawsuit against Royal Dutch Shell, filed in early April in the Hague, helped focus the scientific background and the science based target for the complaint. See: Savage, Karen (2019) Shell Sued in the Netherlands for Insufficient Action On Climate Change, Climate Liability News, 5 April. And: Tielbeke, Jaap (2019) Big Oil in de beklaagdenbank, De Groene Amsterdammer, 10 April.
We can see the ground shift under the companies that lag in climate commitment and action. Meanwhile the progressive companies are taking their responsibility and power to help transform the global energy industry seriously. Royal Dutch Shell and Equinor are moving in the right direction both in shifting investments to a non-carbon portfolio, though both have to be urged to increase their ambition and their measurement of success as well as build flexibility as climate change accelerates. CAI's work is devoted to providing the rationale – and the legal leverage — for fossil fuel industry action to reduce global emissions in line with the best science and ethical basis for action.
News Update - 6 September 2018
The Climate Accountability Institute is today releasing an update of the Carbon Majors Project — detailing the direct and product-related emissions traced to the major industrial carbon producers in the oil, natural gas, coal, and cement industries — through the year 2016. The work follows the methodology published in the peer-reviewed journal Climatic Change in 2014. These carbon producers — the Carbon Majors — have produced the fuels that have altered the energy balance of the atmosphere that is the primary cause of human-caused climate change.
Richard Heede was invited to testify at the National Inquiry on Climate Change hearing in Manila, 28-29 August, before the Philippine Commission on Human Rights, and gave a presentation on Climate Accountability Institutes' work to quantify the contributions of major carbon producers to climate change and climate damages." Several Filipino petitioners also testified at the two-day hearing, including Filipino climate scientists, and local affected peoples from the devastating typhoon Haiyan of November 2013. Experts Carroll Muffett (President of the Center for International Environmental Law, and a member of CAI's Board of Directors), Geoffrey Supran (Post Doctoral Fellow in the Department of the History of Science at Harvard University), and Sophie Marjanac (Lawyer, ClientEarth, London) gave powerful presentations.
Rick also presented at the Strategic Climate Change Litigation Workshop, Bogota, Colombia, 11-13 July, and gave a talk to a graduate seminar in Climate and Law at the University of Amsterdam School of Law in May.
Among the broad media coverage of CAI's work, Jason Mark's contribution in Sierra magazine (May/June 2018) stands out: Mark, Jason (2018) The Case for Climate Reparations: who should pay the cost for climate-change-related disasters? Sierra, 27 April 2018. Read the article here.

News Update - 30 March 2018
ExxonMobil's subpoena of Richard Heede and Climate Accountability Institute and our colleagues "is dead". Judge Caproni rules against ExxonMobil's attempt to block investigation: John Schwartz, Court Dismisses Exxon's Effort to Block Climate Investigation, New York Times, 29 March 2018.

In separate action, Judge Alsup, Ninth Circuit Federal Court, requested that plaintiffs (Cities of San Francisco and Oakland) and defendants (Chevron, Exxon, BP, Royal Dutch Shell, and ConocoPhillips) each respond to a set of eight questions in an unusual climate science tutorial in open court.
Kurtis Alexander, People cause climate change, but don't blame big oil, industry tells judge, San Francisco Chronicle, 21 March 2018.
More details on the questions (and science-based answers):
Umair Irfan, The judge in a federal climate change lawsuit wants a science tutorial, Vox, 21 March 2018.
And a related excellent article in the Guardian for context:
Damian Carrington, Can climate litigation save the world? The Guardian, 20 March 2018.
News Update - 15 December 2017
Richard Heede, "Carbon producers' tar pit: dinosaurs beware: The path to accountability of fossil fuel producers for climate change & climate damages," Institute for New Economic Thinking Plenary Conference, Edinburgh, 23 October 2017. INET feature and paper.
Selected publications and media mentions of CAI's work
Economist, The (2017) New Green Advocates: Climate-change lawsuits, International Section, The Economist, 2 November.
Hulac, Benjamin (2017) Judge in Exxon case links climate skepticism with flat Earth, E&E News, 15 December.
News Update - 7 September 2017
Press Release: In a peer-reviewed study published today in the leading journal Climatic Change, the Climate Accountability Institute and colleagues with Union of Concerned Scientists and University of Oxford, demonstrated a methodology for attributing and apportioning climate impacts among major carbon producers and identified potential responsibilities of key producers.
"Like the Carbon Majors analysis that it builds on, this report demonstrates the growing precision with which major carbon producers' responsibility for climate change and climate impacts can be quantified, allocated and, ultimately, litigated," said Carroll Muffett, President of the Center for International Environmental Law and member of the CAI Board of Directors.
Mary Christina Wood, Philip H. Knight Professor at Univ. of Oregon School of Law, noted that "behind destructive hurricanes, wildfires, floods, heatwaves, and sea level rise is a terribly damaged climate system. This study connects the dots between the science and the corporations responsible. It is vastly important for laying the legal groundwork to hold corporations accountable before it is too late."
Our paper:
Ekwurzel, B., J. Boneham, M.W. Dalton, R. Heede, R.J. Mera, M.R. Allen, & P.C. Frumhoff (2017) The rise in global atmospheric CO2, surface temperature, and sea level from emissions traced to major carbon producers, Climatic Change.
Henry Shue's Springboard Commentary (Professor of politics and international relations, University of Oxford):
Henry Shue (2017) Responsible for What? Carbon Producer CO2 Contributions and the Energy Transition, Climatic Change.