Climate accountability as a fulcrum
for climate stewardship.
CAI's new study with Marco Grasso estimates climate damages and reparations due from major fossil fuel companies. Published today in the journal One Earth.
Grasso, Marco, & Richard Heede (2023) Time to pay the piper: fossil fuel companies' reparations for climate damages, One Earth, vol. 6: online 19 May.
Lakhani, Nina (2023) Fossil fuel firms owe climate reparations of $209bn a year, says study, The Guardian, 19 May.
CAI Publication Announcement – World's top 21 fossil fuel firms found responsible for at least $209bn in annual climate change damages
Kusnetz, Nicholas (2023) Fossil Fuel Companies Should Pay Trillions in 'Climate Reparations,' New Study Argues, Inside Climate News, 19 May.
News Update 23 November 2022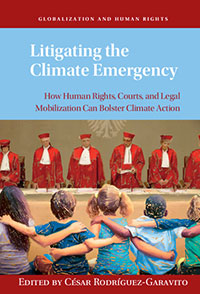 Rodríguez-Garavito, César, editor (2022) Litigating the Climate Emergency: How Human Rights, Courts, and Legal Mobilization Can Bolster Climate Action, Cambridge University Press, 408 pp. ISBN: 9781009106214.
Heede, Richard (2022) Evolution of Corporate Accountability for Climate Change, Chapter 12 (pp. 239-254) in: César Rodríguez-Garavito, ed. Litigating the Climate Emergency: How Human Rights, Courts, and Legal Mobilization Can Bolster Climate Action, Cambridge University Press, 408 pp.
News Update 14 November 2022
Renowned Climate Scientist James E. Hansen and Other Climate Experts Sue the US Environmental Protection Agency for Failure to Phase Out Climate Pollution.
Richard Heede, Individual Petitioner, Climate Accountability Analyst, CPR Initiative Advisor
"EPA could have taken up the opportunity we presented in our Petition to fill in some of Inflation Reduction Act's large gaps and offset some of its weaknesses, since the IRA was virtually all carrots and no sticks. Indeed, I wish our expert federal environmental agency would exercise greater leadership on this vital issue, but the law gives the Court specific authority to come to its own conclusion and direct the agency to act. The simple, incontestable fact is that greenhouse gas pollution presents an unreasonable risk to public health and to the environment.
"The Court needs to direct the Agency to do the right thing, without further delay."
See CPR Initiative.
News Update 27 October 2022
Climate Accountability Institute is releasing its report: East Africa Crude Oil Pipeline: EACOP lifetime emissions from pipeline construction and operations, and crude oil shipping, refining, and end use.
Here we detail the emissions attributable to the French oil major TotalEnergies and the China National Offshore Oil Company from the crude oil transported via their proposed 1,443-km pipeline bringing oil from Lake Albert in NW Uganda to Port Tanga in Tanzania and shipped to global markets. THE EACOP Consortium's Environmental and Social Impacts Assessment estimates the tiny fraction (1.8%) of emissions from pipeline construction and operation over its 25-year lifetime and ignores the 98.2% of emissions from transportation of the crude oil, refining into petroleum products, and used as intended by consumers.
Read the EACOP Press Release
Read the EACOP Report
Carrington, Damian (2022) 'Monstrous' east African oil project will emit vast amounts of carbon, data shows, The Guardian, 27 October.
"In Uganda, having been at the center of the campaign against the proposed East African Crude Oil Pipeline (EACOP), I have seen forced displacement of communities, police brutality on peaceful environmental activists, delegitimization of otherwise legitimate environmental institutions, abduction of human rights activists and journalists, among other ills. The proposed EACOP must not be allowed to proceed. Total Energies must be stopped!"  ~ Prince Papa, Laudato Si' Movement, and Refueling Africa, personal communication, 24 October 2022.
Watch Real World Visuals short animations:
25-year EACOP CO2 emissions from Eiffel Tower to bird's eye view above Paris (each sphere contains 1 milllion tonnes CO2)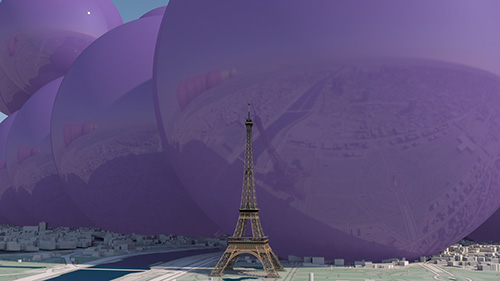 Real-time emissions of small spheres containing 1 kg CO2 each.